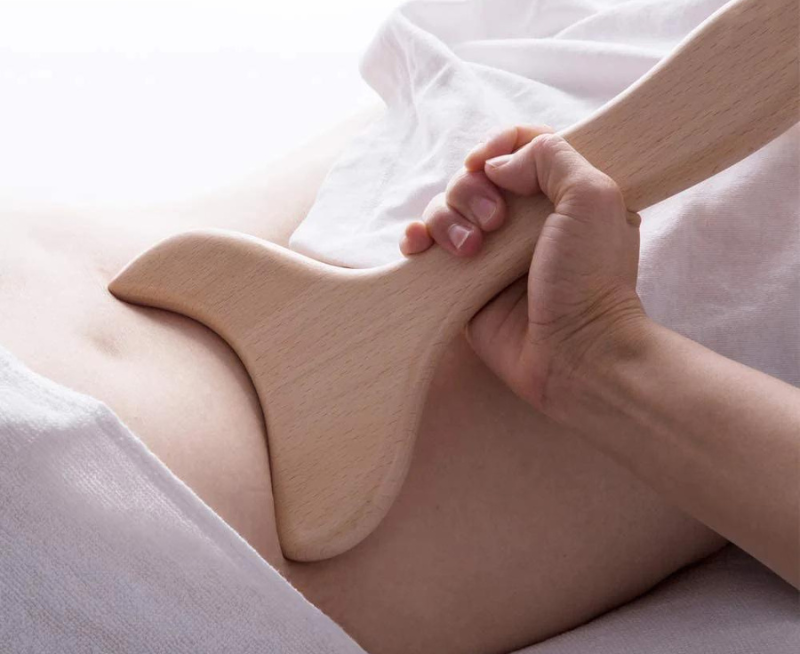 Guasha is an ancient therapy technique designed to tone the skin, and penetrate into soft tissue layers to  reinvigorate blood and nutrient flow.   Often performed with a jade stone, my Bodywork uses GuaSha wooden  paddles for body-sculpting and shaping benefits as well as improved muscle tone, removal of scar tisssue and overall muscle health.
What are the benefits of GuaSha?
Give your body a major boost with a highly invigorating and energising ancient Chinese soft-tissue sculpting technique.  GUASHA is performed with soft cedar wood paddles penetrates deep into your muscles to relieve pain by mobilising soft tissue, increasing blood flow to push out toxins into lymphatic drain channels, and reintroducing fresh nutrients and oxygen for relaxation and healing to targeted muscles as well as switching on collagen production. Overtime, it can also reduce visible cellulite, leaving your muscles looking and feeling toned. Veins and capillaries expand as a result waking up the nervous system triggering the effects similar to a natural physical workout.
How does it work?
Soft cedar wood paddles are brushed over your  body contours  with  sufficient pressure to mobilize underlying soft tissue and skin to stimulate blood and nutrient flow, removing toxins and waste into the lymph channels and infusing an arrival  of fresh oxygen and nutrients for healing.
Does it hurt?
This is a highly invigorating and energising therapy treatment and ideal for clients who feel sluggish, low in energy, or less active, as well as those who are sporty and need a body re-boot.
You may feel a tingling on your skin  are your cells are stimulated and  oxygen  is being infused.  You may experience red marks or  light bruising and heat as the skin and underlying tissue are being stimulated.
Pressure is always adjusted  to your comfort level.  
Combine this with Muscle Energy Activation and Cellular Healing Add-On
GUASHA treatment works even better when it is finished off with a revolutionary energy therapy that heals and recharges your body's cellular system to bring your body back into balance and strengthening your immune system.  You will find this add-on treatment under 'Energy Muscle Healing' in the menu bar at the top
Once you click the  button below, you'll come to my booking services page where you can choose either the first category of Bodywork treatment focusing on muscle and joint movement for 60/90/120minute sessions; or the second category of advanced therapies with one of my 3 specialty treatments integrating deep tissue BodyWork with either Energy Cellular Healing, Hijama/Wet-Cupping, or GuaSha Body Sculpting.  Specialty treatments are 120minute services. 
You can also email me at the top of your screen for a more bespoke therapy custom-designed to your condition.